By Cobain |
19
October 2021 |
0
Comments
Questions of escalator handrail sterilizers
Why choose HoldSafe Escalator Handrail Sterilizer?
Ease of Implementation
The only continuous solution to disinfect handrails during regular operation, with no risk, obstacle or inconvenience to the user
Fastest solution to implement to eliminates pathogenic and viruses on handrails
Installs in under an hour: Easy to install, maintain and operate. No electrical wiring, damage to escalator or disassembly of any escalator structure
Suitable for ANY existing escalator or moving walkway. Regardless of balustrade type; glass, stainless steel or both
Far superior and cost effective to embedded UV systems which require costly escalator maintenance, system shutdown, and offer no real-time validation to users that it is in place or even working
Flexible positioning to ensure no obstruction to safety switches and features on existing escalator
Proven 98% Effective (UV-C Ultraviolet light)
No toxic or harsh chemicals utilised. No residual chemicals or damage to handrails. Only bacteria are targeted and eliminated by the UV-C light
UV-C is the most effective method of surface disinfection – proven up to 98% effective in laboratory and medical studies against CoV viruses, bacteria and germs
HoldSafe has been proven effective in real-world and laboratory testing, also showing 98% effectiveness in killing pathogens on handrails.
UV-C proven effective in medical studies and for use in operating room and hospital use. Currently UV-C is most commonly used in the medical market
Safe
The only cULus Listed product of its' type – Passed stringent Underwriters Laboratories (UL www.UL.com ) safety requirements and testing. No risk of entrapment, UV-C light leakage, impact damage or electrical distress
Highly visible and reassuring to escalator and walkway users. Modern design, clear labelling and attractive indication lighting on the front panel. There will be no doubt that your escalator handrails are being actively disinfected
1000's of units installed in 100's of locations worldwide; airports, malls, venues, transit systems, etc. since 2017. No accidents or damage reported
Tested and proven in installations for over 3 years
What type of expertise is required to install a HoldSafe Unit?
Installation can be completed by a general facilities management or maintenance individual with moderate technical skills. There is no wiring required, just alignment, placement and securing screws.
We estimate the installation time to be under 20 miniutes per unit. There are a few steps that require a second set of hands to ensure even alignment. We have a detailed instruction manual that is included with each unit. We can also supply an installation jig that allows single person installation, we recommend this for large scale installations. Please contact us for further information
However, local city, state, or regional codes vary. Please verify with your regional authority, or equipment maintenance contractor.
How many Holdsafe sterilizers using for One escalator?
Only need 2pcs holdsafe sterilizer using for one escalator.
One install on the left side, another intall on the right side.
The difference between CW003GLS and CW003SUS.
CW003GLS using for the glass balustrade escalator/walkways.
CW003GLS always using for the airport and shopping malls.
CW003SUS using fo the stainless steel balustrade escalator/walkways.
CW003SUS always using for the Metro stations.
But for now we using the new type of CW003GLS.
Hs code of Hold safe escalator handrail sterilizers?
How long does it take to install a HoldSafe UV Handrail Disinfection Unit?
We have estimated 15-20 minutes per unit.
This is a conservative estimate and with experience and planning we have seen this time below 20 minutes each unit. With 2 technicians working in tandem, time is greatly reduced.
These estimates are for a glass balustrade walkway or escalator, times will differ slightly for other variants, however the general process is the same.
Use of our installation jig reduces the personal required for installation to one installer only
​
Is there a risk of fingers being caught or pinched in the unit?
No. One of the primary reasons we engaged with UL and obtain our North American safety certification, was to eliminate any risk to the public. UL writes the standards for safety in almost all commercial and industrial product applications, making them the gold standard from which most other safety standards are taken.
We worked with UL to produce a set of safety guards with brushes in order to address the potential issue of pinch points and entrapment. The brushes act as a prompt and are fitted above and below the unit, and the guards minimize the gap to the handrail to within those deemed safe by UL.
The guards also create a safe distance from any entry point to an internal moving part – therefore avoiding any exceptional risk for pinch points. These safe distances were specified and tested by UL.
Is there a risk of UV-C ultraviolet light escaping the unit and harming the public?
There is no risk of UV light escaping the unit or creating unsafe exposure to the public. The HoldSafe unit uses UV-C LED light modules that are fully contained within the enclosure.
UV-C light is only exposed on the handrail within the unit. There is a non-UV blue indication lamp on the front of the unit to indicate it is in operation.
The risk of UV irradiance (UV light escaping) was also tested and passed by UL
What happens in the event the handrail shuts down?
The unit has a built-in low voltage electricity generator and is entirely self-powered using the motion of the handrail. (no wiring required during installation)
If the handrail is shut down the unit does not operate. It will immediately restart once the handrail is restarted.
The unit cannot function if removed from an operating handrail.
If the escalator shuts down, does the HoldSafe unit shut down as well? / If so, how quickly?
If the handrail stops, the unit loses power and the UV-C light shuts down completely in seconds (<5).
There is no battery or high capacity capacitor in the UV unit. There is no risk that it will operate during maintenance or other stoppage.
​
Is there a risk of the HoldSafe damaging the escalator?
No, there is no risk of any damage to the escalator. The units do not require any hard wiring during installation or disassembly of the installed escalator/walkway. The units for the glass balustrade use a 3M VHB adhesive tape (UL approved) to fix the mounting brackets to the glass. This can be removed without damage to the glass should the unit be removed.
The units for stainless steel escalators do require 4 small screw holes, however these can be easily sealed if the unit is removed. We are working on an adhesive based system for the future. See below.
Will the HoldSafe UV light damage the handrail in the short-term or long-term?
There is no evidence of any short-term or long-term damage to a handrail from UV-C light
UV light (A, B & C) occurs naturally in the sun, however the UV-C used for disinfection is the least penetrating of all the UV sources. On skin, for example, it will barely cause a redness on the surface skin cells after prolonged exposure. The only risk is direct exposure of UV-C to the eyes. This is something that we have designed for, and, have passed the UL safety testing related to UV irradiance (light leakage outside the enclosure).
In terms of the handrail, there is no actual or theoretical evidence to show that it can cause damage or deterioration to the handrail. Some points:
In general, UV-C light is less harsh than chemical based cleaning products.
Rubber exposed to direct outdoor sunlight will, over time, possibly discolor and deteriorate. However, that is the longer wavelength UV light known as UV-A and UV-B. We use UV-C which is the shorter wavelength and least penetrating.
The handrail is exposed to the UVC rays for 0.2 to 0.4 seconds for each cycle (1 time of cycling) so there is no prolonged exposure on any given point on the handrail
The UV-C will be absorbed primarily by the surface bacteria and pathogens present on a handrail
We have units that have been installed over a 3 year period showing no evidence of damage to the handrail
Are there any parts that require service or regular replacement?
Yes, these are the Maintenance Recommendations:
REGULAR
It is recommended to utilize compressed air to dislodge any dust build up in the interior of the unit on a regular basis
Dependant on the usage and location of the escalator or walkway, this could be daily, weekly or monthly
Simply direct the compressed air nozzle into the TOP and BOTTOM guards to blow out accumulated dust. A 5-10 second application of compressed air is sufficient
If something has become lodged within the unit, remove the side covers to gain access to the inside of the unit. Ensure the handrail is NOT moving. An item can be dislodged accordingly. Ensure the side covers are replaced securely and correctly
Never operate the unit without the side covers
PERIODIC
The UV-C LEDs are rated for 10,000 hours of lifetime before they degrade below the guaranteed effectiveness level
The self-powering generator has a rubber roller that may show wear and tear based on usage conditions
We Recommends replacement of both components at the same time. We suggest referencing 10,000 hours as the lifespan to calculate when the units need servicing. Average Replacement cycle can vary from 1.5 to 3 years based on system operation
Note: A system operating 24/7 will require replacement in 13-14 months
Periodic maintenance requires a trained technician or a factory refurbishment.
Are there any customer testimonials?
A survey was conducted in 2018/19 with customers in the Asian market. Here are some of the survey results and comments:
User Perceptions:
Before UV Unit Installed:

Handrail Cleanliness : 75% of users think the handrail is dirty
Possibility of Viruses on Handrail : 75% of users worry about virus contamination

After UV Unit Installed:

Reduction of Germs : 75% of users perceived a reduction of germs and bacteria on handrails
Usage of Handrail : 74% of users increased holding the handrail
Accident Reduction : 75% of installations noted a decrease in accidents
General Results & Client Feedback:

What result did you prefer, Cleanliness or Safety?

50% indicated that the unit enhanced the cleanliness of the handrail
50% indicated that the unit improved safety

80% indicated that the unit enhanced the overall image of their location
80% indicated they would add more unit to their facilities
80% overall satisfaction rate
"The UV Unit visibly demonstrates that the handrail is clean/more sanitary and contributes to a reduction in accidents "
"More passengers held the handrail with the security it was safer and cleaner"
"The product improved the image of the venue and provided a social contribution to health and safety to passengers."
"Improved the status as a premium shopping mall and provided sensitive customers with greater safety. Especially those with children."
"Enhanced image and passenger safety increased"
"Daily cleaning (wiping) was not enough. The unit improved safety of passengers
​
Quick facts about the HoldSafe Handrail UV Disinfection Unit:
The HoldSafe units use ultraviolet light (UV-C) to disinfect the handrail. No additional disinfection product is required.
The HoldSafe unit has been tested for safety related to entrapment, impact, UV irradiance and electrical safety. UL Listed File# E506780
The HoldSafe unit has a unique, self-powered generator. The unit generates its' own electricity from the motion of the handrail. NO wiring is required.
The HoldSafe unit is designed to be easily attached to any existing escalator or moving walkway; glass, stainless steel or both.
Pls confirm that price is same for CWL003GLS and CWL003SUS
Yes, CW003GLS and CW003SUS is the same price
Buy new type of escalator handrail sterilizer: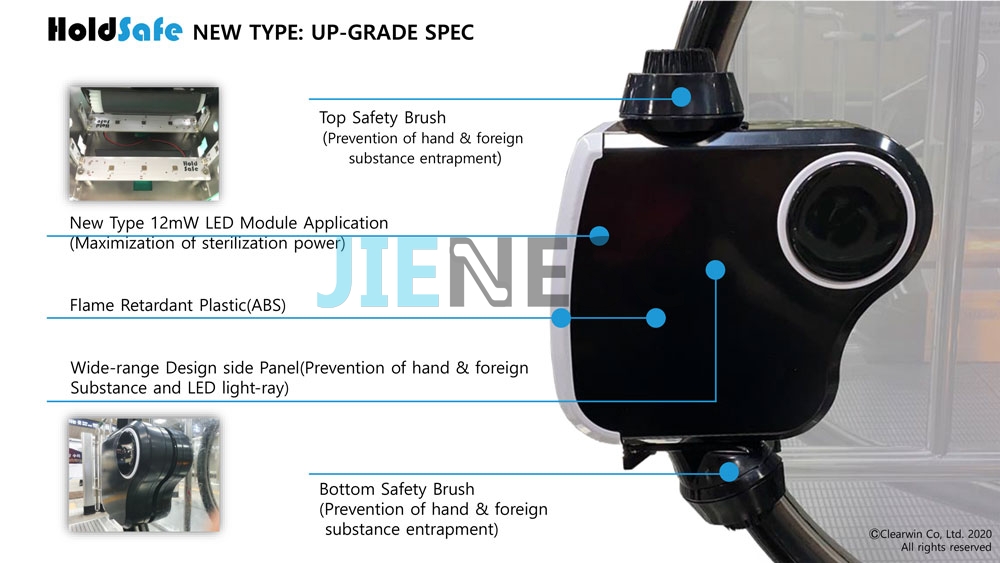 Leave a Reply
Your email address will not be published.Required fields are marked. *