By Cobain |
04
February 2021 |
1
Comments
New product Elevator Air Purifier
Elevator Air Purifier
Controlling the cabin environment and protecting health
With safety at the core of its values,
JIE
NESC
presents an innovative series of solutions that safeguard the hygiene in the cabin and protect the passenger at all times.
The Elevator Air Purifier is a two phase technology that uses molecular materials and UV light to totally disinfect the cabin for clean, uncontaminated air. The Air Purifier utilizes technology and engineering to offer a safe and protective environment in the cabin interior.
99% killing rate of bacteria
99,76% influenza virus removal rate
UV catalyst sterilization
Advantages
Two-phase disinfection and purifcation function
Powerful sterilization & disinfection
Low noise level
Ultra-thin design
Easy installation and maintenance
Motion sensor activated operation
Energy-saving & high efciency
Suitable for both existing and new installations as well as for modernization projects.
Ideal for
Residential buildings
Commercial & public buildings
Shopping malls
Hotels
Hospitals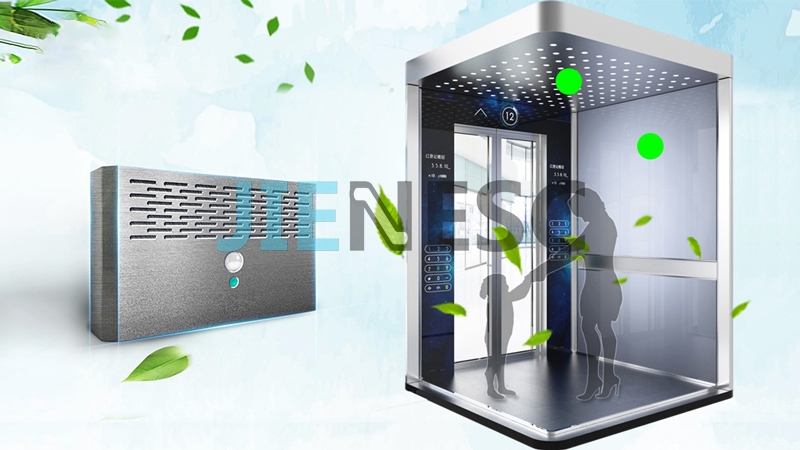 | | | |
| --- | --- | --- |
| 1 | Circulating air volume | 60m3/h @0Pa |
| 2 | Disinfection bacteria-killing technology | Germagic slow-released molecules + wholly-clossed UV photo catalyst |
| 3 | Disinfection efficiency | 99% |
| 4 | Killing rate of virus(influenza A and B virus) | 99% |
| 5 | Killing rate of MERS coronayirus | 98% |
| 6 | noise | 45dB(A)@1m |
| 7 | Way of air flow-in and flow out | Breathe in from bottom and return from front |
| 8 | Rated voltage of adaptor | 220V 50/60Hz |
| 9 | Max operation current | 1.2A(24V DV) |
| 10 | Output voltage of adaptor(connecting to product) | 24V DC |
| 11 | Rated power | 30W |
| 12 | Standby power | 3W |
| 13 | Range of working temperature | -20℃~45℃ |
| 14 | Range of working humidity | Relative humidity from 5% to 95% |
| 15 | Maintenance requirement | Top maintenance of filter |
| 16 | Maintenance period(Germagic slow release molecular filter) | 90 days(normal) |
| 17 | Maintenance period(UV photo catalyst assembly) | 360 days |
| 18 | External dimension(width×height×thickness) | 300*150*66mm |
| 19 | Net weight | 1.5KG |
Leave a Reply
Your email address will not be published.Required fields are marked. *